About This Website
Paranormal-Encyclopedia.com is a free resource website that aims to provide reliable, objective information about paranormal activity and phenomena. The public is invited to participate and help build this resource. Submissions are sent to a reviewer before publication.
This website is a work in progress. At the moment there are around 300 articles in various states of completion. Articles are added and improved upon regularly. You can follow the progress of this project by subscribing to Dave Owen's paranormal blog (

RSS feed).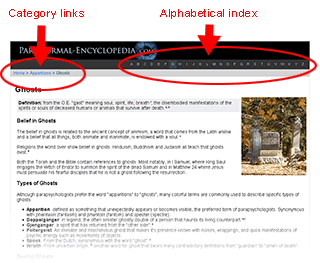 Using this website
There are two ways to navigate the encyclopedia:
Category: Go to our home page and follow the links to major topic areas. As you browse around, use the category links in the page header to keep track of where you are. Also keep an eye out for "related categories" links below the article content.
Alphabetical index: Use the alphabetical index links to find specific article topics quickly.
You can also use the search form located below the alphabetical index and at the bottom of the page.
Notes
Hyperlinks to external websites are shown with a "new window" icon, and open in a new browser window by default.