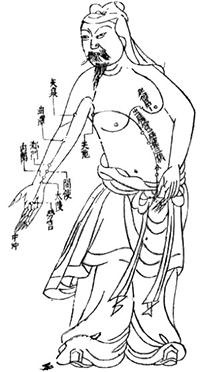 Acupuncture chart from the Ming Dynasty
Acupuncture
"The needle treatment"
The term acupuncture is derived from the Latin words acus (needle) and pungere (prick). Acupuncture involves a method of inserting a special type of needle into specific points of the body which are known as the "acupuncture points".
Acupuncture has its roots in Chinese traditional medicine. There are various types of acupuncture including Chinese, Japanese and Korean acupuncture. The first mention of acupuncture was in the Chinese medical text "Huang Di Nei Jing" some 2000 years ago.
Acupuncture is used to treat nausea, chronic back and neck pain and many other conditions. It is said to work on the basis of maintaining vital energy balance in the body. The needles are inserted at certain spots which supposedly help the smooth transmission of energy in a balanced manner. Today lasers, herbs, electricity and magnets are also used in addition to needles.
Acupuncture is said to be a painless and relaxing treatment. Improvements are usually promised after five to ten treatments. It is generally said to have no side effects. Only properly trained acupuncturists are allowed to treat patients.
Skeptics argue that acupuncture has no scientifically validated evidence of efficacy. Many reports indicate that patients show only the same level of improvement that would be expected from the placebo effect.
The medical world is full of confusion, contradiction and outright misinformation about acupuncture. For example, the University of Maryland Health Center claims on its website1:
"Although well known in the U.S. for pain relief, acupuncture is effective for a wide variety of problems. It has been endorsed by the World Health Organization (WHO) of the United Nations and the National Institutes of Health (NIH)."
However a skeptic by the name of Nicholas R. Setzer claims to have searched records from both the WHO and NIH and found no such endorsements. He also claims that requests for more information were ignored by the Health Center.2
Studies have shown that patients who believe they are receiving genuine acupuncture, but in fact are receiving a fake treatment, respond the same as those receiving genuine treatment3. Interestingly, a study conducted by Eric Manheimer of the University of Maryland School of Medicine found that...
"...acupuncture showed little to no benefit in the two trials that compared it with a sham acupuncture procedure..."3
Despite lack of scientific support, acupuncture continues to be very popular, even attracting some support in the medical profession.
Resources:
1. http://www.health.umd.edu/services/acupuncture.html
2. http://www.randi.org/joom/swift/swift-april-11-2008.html
3. HealthFacts Journal, 2007-08-01, http://www.enotes.com/healthfacts-journals/167612008