Adamastor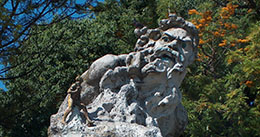 Statue of Adamastor at Santa Catarina
Photo by João Carvalho (
license
)
"Phantom of the Cape of Good Hope"
Adamastor is a mythological being who was created by the Portuguese poet Luis de Comoes in an epic poem, Os Luciadas. The poem was a tribute to the various Portuguese sailors and the story of the many difficulties they had to overcome to pass the Cape of Good Hope and enter the Indian Ocean.
The area around the Cape was said to be Adamstor's domain and he was described as a phantom who threatened the sailors. The poet described him as a threatening storm cloud that would not let Vasco da Gama pass round the Cape.
In the poem Adamastor is described as one of the Titans of Greek mythology who was spurned by the nymph Thetis. According to the legend he attacked the sea goddess and was banished from the oceans for eternity. At the time the Cape was known as the Cape of Storms, later after Bartolomeu Dias and Vasco da Gama successfully passed round the Cape it was named the Cape of Good Hope.
Later Adamastor also featured in two novels by Francois Rabelais: Gargantuan and Pantagruel. Adamastor has also featured in many other poems, plays and operas.
In Lisbon there is a place named after Adamastor and a huge statue of the mythical being.
Adamastor was also the name of a Portuguese cruiser which played a role in the republican revolution of 1910.