Alberich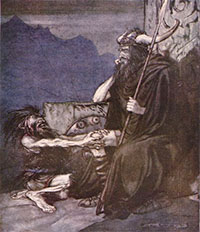 Alberich speaking to Hagen
in Richard Wagner's
Götterdämmerung
Alberich was a powerful magician living during the era of the French Merovingian rulers between the 5th and 8th centuries AD. He lived underground in a castle carved out of rock and decorated with precious gems and stones.
German folktales—particularly the Nibelungenlied, an epic poem written in Old German—state that he was a dwarf and responsible for guarding the treasures of Nibelungen. He fought Seigfried and on being overcome, had to part with the sword Balmung and a cloak which offered invisibility. Freya (another victor) acquired the necklace Brisingamen along with Draupnir, Odin's ring, and the magical sword Tyrfing.
The name Alberich is derived from the terms Elbe (elves) and Reix (king) thereby indicating that he was king of elves. Scholars believe that Alberich was the original concept which spawned numerous other elf and dwarf characters.
Shakespeare's character Oberon in A Midsummer Night's Dream was the king of fairies. This name is drawn from the French translation of the term Alberich/Elegast/Elbegast/Alegast all of which mean elf guest, elf spirit and are derived from Dutch, German, and Scandinavian texts.
Wagner has rendered Alberich immortal through his opera Der Ring des Nibelungen, where he portrays Alberich as the dwarf chieftain of the Nibelungen. He is also the protector of the "Rhinegold treasure". In the opera he is a comprehensive character and traces of the character of Andvari from the Scandinavian mythology can also be found in this portrayal.