Alphitomancy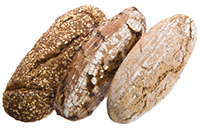 "The barley bread test"

Throughout history many tests have been used on criminal suspects to prove their guilt or innocence. One of the most famous and controversial tests was alphitomancy (derived from the Greek words alphito (barley) and manteia (divination)).
Alphitomancy was usually used as a test to detect the criminal within a group. Whenever a group was accused of a crime, all the suspects were given specially prepared barley breads or cakes to eat. It was believed that the innocent would be able to eat it properly while the guilty would choke or experience indigestion.
It is said that barley bread was preferred over other breads because it was difficult to eat and more likely to cause choking. Alphitomancy was the reason for the origin of the famous oath, "If am deceiving you, may this piece of bread choke me". This test became very well-known during the Middle Ages.
A special procedure was used to prepare the divine bread. Barley was kneaded with milk and little salt, then rolled in greased paper and later baked among cinders. The baked bread was later rubbed with verdana leaves and cut into pieces for the suspects.
Later Alphitomancy was used to test the loyalty of wives, husbands, mistresses, servants and so on
There was a time when Lavinium, a Roman village, used alphitomancy to test the purity of the women inhabitants. It is said that they were sent to the forests on certain days of the year, blind folded with the barley bread. Many priests resides in the woods at the time and kept serpents for pets. These serpents would smell the bread and eat it. If a certain woman's bread was left untouched then she was considered guilty.
A version of the same test was used in England where barley was replaced by wheat bread or cheese. Earl Godwin of Essex succumbed to this test, which became a case that caused much debate over whether alphitomancy is an authentic divination method.