Asmodeus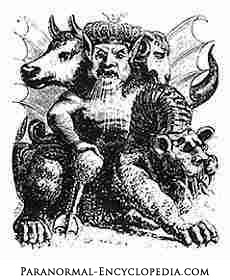 The demon Asmodeus from Collin de Plancy's
Dictionnaire Infernal
(1818)
Asmodeus, pronounced Ashmedeus in Hebrew, is famous as the demon as mentioned in the Book of Tobit. Texts in demonology and some Talmudic legends maintain he was the prime figure in the construction of the Temple of Solomon. Many scholars trace his origins to Zoroastrianism, from where incorporations were made into Judaism and Christianity.
Persian religious texts note him as the chief of all demons whose mission is to instill anger and feelings of revenge in men, and create evil.
Judaism defines him as the lover of Sarah, daughter of Raguel, who kills all her suitors except the seventh, Tobias, who under instructions of the angel Raphael, is successful in driving Asmodeus to Egypt. This demon is projected as having carnal instincts and being very evil.
The Talmud compares him to Satan and describes him as a married man.
Christianity says he was one of the Four Princes of Hell ruling the eastern regions and the seventy-two Legions of Demons. Known as the Demon of Lust, Asmodeus controlled the element of fire and the fire demons.
The text Malleus Maleficarum denounced him as the demon of lust opposed by St. John. Demonologists in the 16th century assigned the month of November to him; others declared his sun sign as Aquarius.
He was also said to incite gambling, oversee gambling houses in Hell and protect male homosexuals.