Bacchus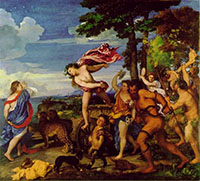 Bacchus and Ariadne
by Tiziano Vecellio (1520-23)
Bacchus is the Roman name for the mythological Greek god of wine, celebration and excess. He is also the patron deity of agriculture and theatre. The Indo-European name for Bacchus is Dionysus or Dionysos. Bacchus is sometimes equated with the Old Italian God of fertility and growth, Liber.
Sometimes known as Eleutherios (the Liberator), Bacchus was able to induce a frenzy known as bakcheia which is said to free participants from their normal limited selves through ecstatic indulgence.
Bacchus is sometimes considered to be a link between the living and the dead.
Bacchus has also been associated with mysterious religious rituals. There are stories which narrate the fact that Bacchus was nursed by rain nymphs, Hyades at Nysa.
According to Greek history, Bacchus was the son of Zeus, the king of Gods and Semele. According to some sources Bacchus's mother was Persephone.
Mythology states that Zeus and Semela were the parents of Bacchus. When Semela was pregnant, Hera the wife of Zeus disguised herself, met Semela and made her doubt Zeus as the king of Gods. It was a trap set by Hera as she knew that no mortal could see Zeus in his true form. If they did, they would perish. Semela, who was a mortal was now overcome by doubt. She asked Zeus to come in his true form which he reluctantly did. Semela died, then Zeus rescued the baby Bacchus who lived on as the God of wines.