Banshee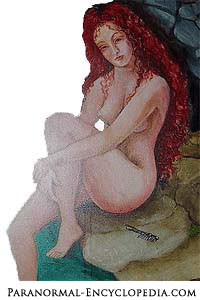 19th century depiction of a banshee
(Artist unknown)
Banshee is a term of Scottish Gaelic origin. It means "woman of the Sidhe"; Sidhe is believed to be a class of supernatural beings or even gods.
Banshees are said to forecast death, usually in Ireland. They warn about the upcoming death by wailing. They are at times also believed to be a washerwoman who carries out the task of washing the clothes of the person who is going to die. Sometimes they are called fairies and sometimes they are considered to be the restless spirits of dead women.
Banshees are said to appear only in three common disguises, a young woman, an old lady or a matron. They are actually the three states of the Celtic Goddess of war and death.
Banshees are sometimes referred to as the "Irish fairie"s. Banshees are also said to appear as animals related with Irish witchcraft.
It is believed that when a group of banshees appear together, it is a prophecy of the death of somebody very great and holy. Banshees have a very important role in folklores of Ireland and they are said to be dressed in white or grey with long fair hair.
There was a time when it was said that banshees would wail and forecast only for five families and they were: the O'Neills, O'Brians, O'Connors, O'Gradys and Kavanaghs. Eventually cross-family weddings increased the number of families.
There are many reports in royal circles of banshees being seen in human form. Sometimes they wail so loud that it shatters glass, sometimes it is a low pitch and sometimes it is harsh.