Beelzebub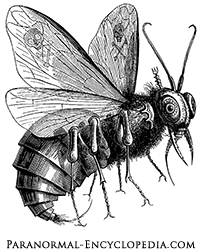 Beelzebub as depicted in Collin de Plancy's
Dictionnaire Infernal
(1863).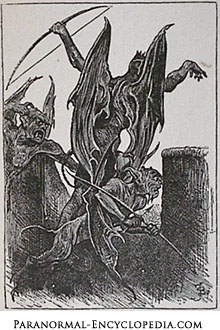 "Beelzebub and them that are with him shoot arrows." Illustration from
The Pilgrim's Progress
by John Bunyan (1678)
"Lord of the Flies"
Beelzebub is a notorious character in Middle Eastern mythology. The name was derived from the phrase "Ba'al Zebub" which means Lord of the Flies.
In modern times Beelzebub is often used synonymously with the devil.
Beelzebub was also known as Belzebuth or Baalzebub. He is believed to have been the controller and creator of the flies in the Philistine city of Ekron. He is said to be associated with diseases, especially diseases associated with flies swarming around corpses. He is also believed to use pride to tempt people for his evil purposes.
Beelzebub is one of the oldest and most demonic figures ever. His strength surpassed the extremes of evil and thus he was termed the "King of fallen Gods". He is also considered the ruler of the infernal regions.
Philistines hated flies and they believed that everything was created by the Almighty except the flies, which were created by Satan. Beelzebub was therefore sometimes known as the prince of flies.
Beelzebub's Cyrenean name is Achor, or the Prince of devils.