Belphegor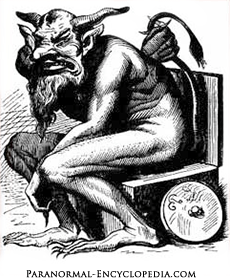 Belphegor (or Beelphegor) is a mythical demon that assists people in making discoveries that may enable power, riches, and/or fame.
Belphegor has variously been depicted as a beautiful naked woman and as a bearded male demon with an open mouth, horns, and sharply pointed nails.
Some Kabbalistic texts name him "the Disputer". He primarily created friction among men and spread evil through granting of wealth.
According to some scholars of the 16th century, April is the month when Belphegor's powers are at their peak.
According to Peter Binsfield's Binsfield's Classification of Demons, Belphegor is the chief demon of the deadly sin, Sloth. It has been said that he uses people's laziness to tempt them
Belphegor is shown in an unfavourable light in many Christian texts, including Deuteronomy 4:3, Psalm 106:27-29, Hosea 9:10. Many sacrifices were made to this god, which enraged Moses and prompted him to order the guilty to be killed. The number of resulting deaths was said to be 24,000.
Legend has it that Belphegor was dispatched from Hell by Lucifer to search for examples of wedded bliss, if any existed, on earth. The demon found none in his travels. This tale has been reworked in many literary works, and the name Belphegor came to signify misanthropy and licentiousness.
The name Belphegor may have its origins in the Assyrian Baal-Peor, the god of the Moabites who was worshipped as a phallic deity by the people of Israel in Abel-Shittim. He was also associated with licentiousness and orgies that the Israeli people engaged in with Maobite women.
Belphegor is mentioned in Milton's Paradise Lost and Victor Hugo's The Toilers of the Sea.