Bilocation
Definition: The ability to be in two places at one time.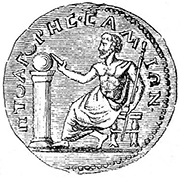 Pythagoras - the first bilocator?
Bilocation would certainly be a blessing to today's multi-tasking society. Imagine being able to work at your job and spend time with your family at the same time or even having the ability to travel Europe and Australia during a single vacation fortnight. Yet, while many tales of bilocation have been passed down through history, most are subject to either faulty documentation or no documentation at all. Unfortunately, bilocation seems to be relegated to one of those gifts that are just "too good to be true".
The scientist, Pythagoras was a legend in his own time. Some of his contemporaries believed he was the personification of the Greek god, Apollo. Among his many supposed supernatural gifts, Pythagoras was believed to possess the ability of bilocation.4
Sour Maria Coronel (1602-1665) was the abbess at a Franciscan convent in Agreda, Spain. Among the many religious phenomena she supposedly exhibited was her ability to transport herself to Mexico where she claimed to minister to the natives. Her "proof" of her bilocation was the decrease in her supply of rosaries, which she alleged that she had passed out among her Mexican converts.2
Believers credit several Roman Catholic Saints with the blessing of bilocation. Two of the most notable are St. Gerard Majella and St. Martin de Porres (1579-1639). The fellow friars of St. Martin de Porres related that when they would call out for him from their sickbeds, the Saint would appear to them and offer them consolation or medicines. Born in 1726, St. Gerard Majella was reported as tending the sick in more than one house at the same time during an outbreak of the plague.1 However, the position of Catholic philosophers is that although divine intervention could make bilocation possible, these beliefs were most probably the hallucinations or delusions of the delirious and critically ill.2
Resources:
1. "Strangeworld," The Journal (Newcastle, England) 14 Apr. 2005: 8, Questia, 11 Dec. 2008 .
2. Joe Nickell, Looking for a Miracle: Weeping Icons, Relics, Stigmata, Visions & Healing Cures (Amherst, NY: Prometheus Books, 1993) 216-218, Questia, 11 Dec. 2008 .
3. Siegfried, Francis. "Bilocation." The Catholic Encyclopedia. Vol. 2. New York: Robert Appleton Company, 1907. 11 Dec. 2008 .
4. SIMON HORNBLOWER and TONY SPAWFORTH. "Pythagoras." Who's Who in the Classical World. 2000. HighBeam Research. 11 Dec. 2008 .