Borley Rectory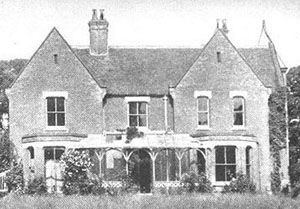 Borley Rectory (date unknown)
Borley Rectory is often referred to as the most haunted house in the United Kingdom. It was built in 18621 by the Rev. Henry D. E. Bull in Essex for his family, and destroyed by fire in 1939.
A newspaper in 1929 carried stories of the ghost of a nun in the house. Subsequent investigations suggested paranormal activities including phantom footsteps, weird lights, spooky whispering, a headless man, sounds of a phantom coach, the ghost of the home's builder Henry Bull, and the specter of the nun which would be seen with the head bent down in sorrow drifting through the garden.
Many centuries ago, this site had held a priory on the land which comprised of a 12th century church, caretaker's house and other buildings. The foundations of the priory included underground tunnels and a maze of vaults. There were 20 rooms, and the rectory was about 3 stories high.
An intriguing story was that of the Benedictine Monks building a monastery on this site in 1362. Legends mention a nun who fell in love with a monk from this monastery. When they decided to elope, the elders got wind of their plans and on the ill fated night, they were caught, the monk was hanged and the nun bricked alive in the walls of the vault rooms. It is said to be these ghosts who haunted the rectory.
Resources:
Bury and Norwich Post August, 1862