Brontoscopy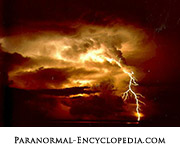 Brontoscopy is the art of divination by listening to the sound of thunder. It was believed in ancient times that thunder and lightning were direct communication from gods and goddesses. Thor, the God of thunder, and Zeus, the god of lightning, were associated with this form of divination.
Brontoscopy was prominent amongst the Babylonians, Etruscans, Indians and Ancient Romans.
In the Middle Ages thunder was given significance in the occult. it was supposed to bring news of death, war or disaster.
Thunder coming from the left was said to be a good omen, often bringing lucky news or a happy conclusion to a situation.
Thunder was also associated with various days of the week.
Sunday: Related to the death of an educated, highly regarded person.
Monday: Often related to the death of a woman.
Tuesdays and Thursdays: A good harvest sign.
Wednesday: Related to bloodshed and death of harlots.
Friday: Indicates the murder of somebody great.
Saturday: Omen of death by epidemic.
Brontoscopy is a branch of ceraunoscopy, divination through interpreting both thunder and lighting. Tinia, the God of lightning for the Etruscans, is closely related to this art.