Caduceus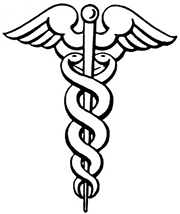 Caduceus is a symbol that depicts a winged staff around which two snakes are entwined. It is also known as the Wand of Hermes. Originally the snakes were thought to have been ribbons. The term caduceus is derived from the Greek word kerykeion or karykeion (herald's staff).
The caduceus is most commonly known as the symbol for the medical profession, although this is not actually accurate. The caduceus has been confused with the original Rod of Asclepius medical symbol, which is similar but only has a single snake and no wings. Apparently the U.S. Army, which had originally used the cross as the insignia for its Medical Corps, changed to using the caduceus 19021.
Caduceus is related to the Greek God Hermes (Mercury). Hermes is believed to be a messenger for the Gods, and was also known as a protector of merchants and thieves as well as the conductor of the dead. The caduceus is often pictured being carried by Hermes.
In the 16th and 17th centuries the caduceus symbol was used by printers due to the association with messages and information.
The caduceus was an ancient astrological symbol of commerce.
Caduceus has been used as a sign of harmony and stability. It is also thought to be the symbol of sovereignty of the Goddess Tanit, the Phoenician Goddess of moon.
Origins
It is said that Tiresias, the seer who did not help Oedipus and family, once found two snakes copulating and struck a wand between them to stop it. Instantly he was turned into a woman. He remained so for seven years until he was given another chance to repeat the action. The union of the two snakes passed on by the wand possessed the power to reverse gender. This wand, along with the serpents, was passed on to Hermes and was called the Caduceus.
Resources:
The Golden Wand of Medicine: A History of the Caduceus Symbol in Medicine (Walter Friedlander)