Caliban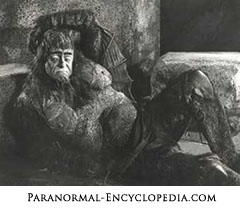 Alec Clunes as Caliban in
The Tempest
, 1957
The name Caliban refers to a number of different characters in mythology and literature.
He is most famous as a character in Shakespeare's The Tempest, in which he was the malformed slave of Prospero, the protagonist of the play. Prospero is sent to a desolate island by his cruel brother Antonio along with his daughter Miranda. Caliban is a monster formed lying on the beach. There is no specific description of this creature but he is believed to look rather inhuman. In some versions he is a mixture of a fish and a man and in some a beast or a deformed monster.
Caliban is supposed to be the son of Sycorax, who is only mentioned and never actually appears in the play. She is believed to be an evil witch who has been banished from the island. Caliban's father was a sailor.
Caliban is declared an enemy by Prospero after Caliban tries to rape Miranda. Caliban later accepts a shipwrecked character as his master and only in the end realizes Prospero's power and returns to be his slave.
Caliban initially was considered a comedian but later he was interpreted as evil.
In other popular culture the name Caliban is used by a music band, a Marvel Comics character and in various novels.