Chakra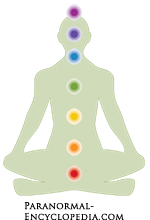 Positions of the seven chakras
Definition:
In Hinduism and Tantra, any of 88,000 focal points in the human body where psychic forces and bodily functions can merge and interact.
1
The word chakra refers to a focal point of life energy in a living being. It comes from a Sanskrit word meaning circle or wheel, and may be depicted as a sphere of bioenergetic activity.
In Hinduism there are seven chakras in the human body, although the seventh actually exists beyond the physical body. The six major chakras are related to states of consciousness.
In Tantra there are four major chakras.
Chakras are believed to control almost every function in our life, physical as well as mental.
The Chakra system is deeply rooted in Indian beliefs. It is prominent in the Hindu religion, Chinese medicine, as well as the yoga system. It has also found place in the New Age movement.
The location of the chakras is believed to be from the base of the spine to the top of the head. Each chakra is specific in its function and is associated with various distinguishing factors.
The first Chakra relates with self orientation, physical identity and represents the element earth. It is located at the base of the spine.
The second chakra is located in lower back, sexual organs and abdomen, and it represents water and is associated with emotions.
The third chakra represents fire and is related to ego and self respect; it is located in solar plexus.
The fourth chakra represents air and is related to social identity; it is there in the heart.
The fifth chakra is the one related to creativity and represents sound; it is located in the throat.
The sixth chakra represents light and relates to archetypal identity and it is located in the brow.
The seventh chakra is related to universal identity and is in our brain, our thoughts. It represents time and space.
Resources:
1. "chakra." Encyclopædia Britannica. 2008. Encyclopædia Britannica Online. 17 Apr. 2008 <http://www.britannica.com/eb/article-9022255>.