Chupacabra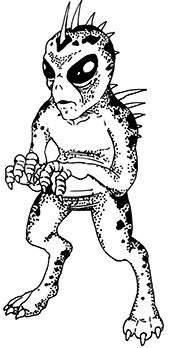 Definition: Goat sucker - a creature credited with sucking the blood from goats and other animals.
Etymology: From the Spanish words chupra (suck) and cabra (goat)
While crypto-zoology is an interesting aspect of paranormal research, rumors of these fearsome beasts can often lead to panic and irrational behavior as seen in tales of the Chupacabra.
Although the Chupacabra has existed in Central American, South American, and Puerto Rican legends throughout history, first media coverage of the vampire-like creature came from Puerto Rico in 1995. From then until now, the Chupacabra has been credited with killing rabbits, birds, horses, cattle, and deer as well as goats.3
Eyewitness accounts of Chupacabra attacks describe a clawed creature that stands erect at about five-feet tall, with both upper and lower jaw fangs. Some reports give the Chupacabra the ability to fly while others attribute its "flight" to powerful hind legs that enable the creature to leap over small buildings, trees, walls, and bushes. Popular theories speculate that the creature is a vampire, an extraterrestrial being, or a hybrid of several different animal species, born of some sort of genetic engineering.
Chupacabra terror spread to the US during the 1990's, when farmers and ranchers reported Chupacabra attacks on livestock throughout the south from Southern California to Florida. Unfortunately, these "threats" created panic and caused some livestock owners to declare "open season" on wildlife such as mountain lions. In Southern California, extra police patrols were deployed to protect the area from the Chupacabra.
Although farmers and villagers report that the Chupacabra is reptilian in appearance, in August 2000, a Nicaraguan farmer, Jorge Luis Talavera, shot and killed a Chupacabra. However, an official analysis completed in September 2000 revealed that the creature was only a dog, although Talavera accused officials of switching carcasses.3
In 2007, biologists at Texas State University reported that DNA testing revealed that the "creature" was really a coyote.1, 2 Although skin samples were taken to try to determine why the animal was hairless, a coyote expert at the University of California-Davis remarked that a picture of the animal looked like the creature was a coyote with mange1, an ailment common to both domestic dogs and wild canines.
Resources:
1. "Creature ID'd As Coyote, Not Chupacabra." AP Online. 2007. HighBeam Research. 28 Jan. 2009 <http://www.highbeam.com>.
2. Stephanie Kusy-wilson. "Genetic testing reveals chupacabra to be coyote." University Wire. 2008. HighBeam Research. 28 Jan. 2009 <http://www.highbeam.com>.
3. "Creatures of the Night." Gale Encyclopedia of the Unusual and Unexplained. The Gale Group Inc. 2003. HighBeam Research. 28 Jan. 2009 <http://www.highbeam.com>.
4. Theodore Hamm, "Mike Davis, Ecology of Fear: Los Angeles and the Imagination of Disaster," Journal of the Southwest 43.4 (2001), Questia, 28 Jan. 2009 <http://www.questia.com/PM.qst?a=o&d=5002436352>.