Cockatrice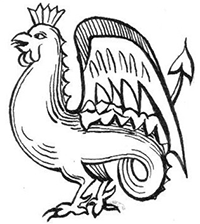 Cockatrice is a legendary creature first described in ancient Roman and Hellenistic times. It is said to be a small serpent resembling an Egyptian cobra. Originally it was also known as a basilisk, but later the two were seen as separate creatures.
The cockatrice has the power to destroy animals and vegetation by using its stare or its breath. The weasel is the only animal which can withstand its powers; it is said to spit venom which is an effective weapon against the cockatrice.
The cockatrice is said to be born from an egg which is laid by a cock and hatched by a toad.
Cockatrice are said to possess strong magical powers, most notably, the "death eye" (or breath) which can turn people to stone or burn them. Cockatrice is able to fly.
The village of Wherwell in England is famous for the legend that it was once terrorized by the Cockatrice. Cockatrice has also appeared in the famous "Harry Potter' book series. It has also appeared as a character in various computer games.
In some legends it is believed that there are two types of cockatrice. One of them kills by spitting fire and the other by just looking. They are also said to kill by conducting poison through weapons. They can be killed by their own kind, so if a mirror is held in front of them, their own gaze will kill them.