John Dee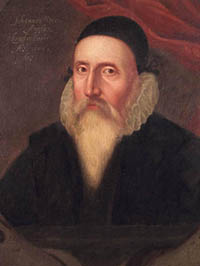 John Dee (artist unknown)
John Dee (1527 - 1608) was a noted mathematician, astronomer, astrologer, occultist and geographer from Wales. He was the spiritual advisor to Queen Elizabeth I. He was also known as a great orator of alchemy, divination and master of a variety of spiritual practices.
John Dee tried to correlate science and spirituality. His intellect was recognized by the educated world; he was chosen as the spokesperson for many ardent lovers of mathematics, astronomy and Hermetic philosophy in the great halls of University of Paris.
John Dee performed different roles in his life. In 1558 when Elizabeth occupied the throne, Dee was appointed as her advisor in astrological and scientific matters. He contributed greatly to the making of the "British Empire", and is actually credited with coining that term.
Dee's life was filled with experiments about nature. He had practiced astrology for his living, but he also practiced Talmud, Rosicrucian theories. He showed great interest in alchemy and made an attempt to trace the secret of the Philosopher's Stone.
In 1581, Dee started practicing crystal gazing, and he attained the power to communicate with the spiritual world.
He contributed a series of books on various subjects including mathematics, astrology and necromancy. He was labeled as a wizard by many critics and at the same time was consulted by thousands of people because of his supposed magical powers.
John Dee died at the age of 81 in poverty.