Extispicy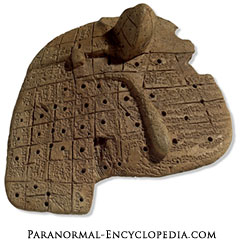 Clay model of a sheep's liver from early in the second millennium BC. This was used as a guide to interpret omens.
Divination played a very important role in the mythology of almost every culture and religion in ancient times. Two of the most prominent forms of divination were astrology which was observation of stars and planets, and extispicy which involved observation of the internal organs of sacrificial animals.
Extispicy is derived from the Latin word 'extispicium'. Extispicy was prominent amongst the Greeks, Romans, Mesopotamians, Etruscans and others.
This divination technique uses almost every organ of the animal to foresee the future. The most important organs were usually the liver and lungs. The organs determine the future based on how clean, clear, bloody, tangled or confused they look. Discoloration and pathology were considered bad omens.
Animals used for sacrifice were checked to be pure and perfect.
Babylonians examined the internal organs, as well as the fire used for sacrifice, and meat and drink offered after the ceremony. If the entrails were bloody it was considered a very bad omen, if the fire was wanting it was said to be fatal, a weapon mark on the liver was good for the army. Babylonians also used extispicy for agricultural forecasting.
Extispicy was later condemned when sacrifices started being considered as unholy, but is said that this practice is still in use today.