Fakir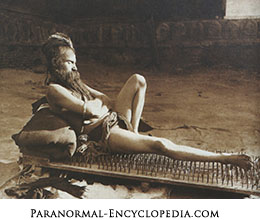 Hindu holy man (Photo by Herbert Ponting, 1907)
The term fakir is derived from the Arabic word faqr which means poverty. This term was used by the Mughals who ruled India in the past, and presently it is used to refer to Sufis with extraordinary powers and Indian sadhus who are believed to possess magical skills.
A fakir is a spiritual recluse who leads a simple life restraining from all physical pleasures. A fakir lives by begging and he spends his life chanting devotional scriptures or verses. He leads a nomadic life, traveling from place to place and performing spiritual feats.
In India the fakir is known by different names such as yogi, sadhu and guru. Fakir, according to Sufi and Hindu religions, has the ability to perform magical powers. They attract people by performing feats such as walking barefoot on charcoals, sitting or lying down on a bed of nails, levitating, etc. Some of them claim to have the ability to restrain from food completely, and they live inside the caves of deep jungles for many days without food.
Fakirs were greatly respected in ancient India. Hindus give them alms in the belief that giving alms to fakir will bring more prosperity to them. Many street beggars who simply chanted the holy verses were also given the status of fakir by the public.