Feng shui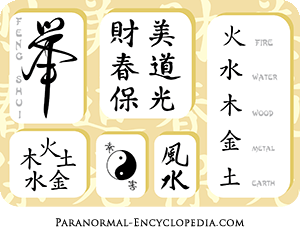 Feng shui symbols
The term feng shui literally means 'wind water' in Chinese. Feng shui represents the arrangement of living space in accordance with nature. The term was first coined by Guo Puo in his 'Burial Book' during the Jin Dynasty.
Feng shui can be considered a complex discipline that combines many sciences such as mathematics, geography, astrology, philosophy, psychology, etc. Feng shui study is based on two primary driving forces of nature, the wind and the water. The wind represents the source of dynamic energy whereas water represents the source of static or stored energy. Therefore, for attaining a harmony in the living environment, there needs to be an equilibrium between these two forces. Thus Feng shui involves the practice of bringing harmony between the static and dynamic forces of nature.
Water and wind have the power to influence human behavior. Wind, the dynamic energy, is responsible for the changes in nature; thus it controls the human actions and interests. Water, the source of stored energy, controls the stability, the mental power and the values of human beings. Feng shui attempts to improve human nature by allowing the flow of these forces in a harmonious manner.
The energy (Qi or Chi in Chinese) is present everywhere, in every individual. However, it may not be distributed in the desired manner. The surrounding where an individual lives can affect the Chi of a person. If the energy flow of the living atmosphere is not favorable to the individual he will suffer in matters of luck, finance and health. Feng shui aims to improve the flow of Chi and can offer a solution for such problems.