Grimoire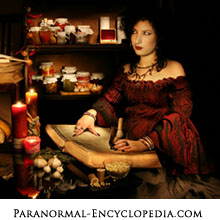 A grimoire is a book of magic; it is a book which describes and discusses magical beliefs and practices. Grimoires were written during the medieval period and the 18th century. These books typically contain spells, descriptions of talismans, list of angels and demons, astrological and divination facts, etc.
Grimoires became prominent again in the 19th century. Some of the old books were taken under possession of magical societies for safe keeping and research. Many of these grimoires were written in Greek or Egyptian and were found in Egypt. There are a number of grimoires which have yet not been deciphered.
In modern times some people have written fictional grimoires. There have also been reports of people being prosecuted for selling fake grimoires.
A grimoire may also talk about various symbols and how to use them.
There are various modern day grimoires which can be bought on the internet. These claim to be powerful just like the olden day ones, luring people who want to try magic or wish to become sorcerers. Some of them have as many as 500 spells with instructions. Some can be downloaded easily and some need specific software. With the increasing publicity of magic and its powers, grimoires are becoming popular in the modern age too.