Hecate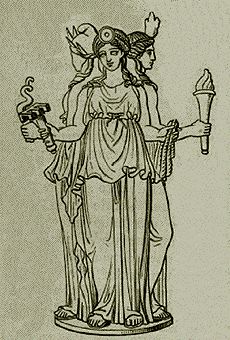 Hecate, by Stéphane Mallarmé (1880)
There are numerous varying descriptions of the goddess Hecate. Some consider her the goddess of witchcraft and childbirth, some say she is the guardian of a household, some say she is an evil witch. She is usually described as being beautiful but some sources describe three heads—one of a boar, other of a horse and another of a snake.
Many sources say that Hecate enjoyed a glorious reign. It is said that Zeus gave only her power to grant mankind anything if she was pleased with them.
Hecate was also known as the Moon goddess, but it is said that her kingdom comprised of Earth, sea and the sky. She was revered by sailors for her power to start or hold a storm.
Hecate is a virgin goddess and has been called the admirer and lover of solitude. She is said to have never married so as not to lose her freedom. She has often been described as luminous.
Hecate's mother was Asteria, the Titan Goddess of Shining Light. Artemis was her cousin.
Hecate was believed to have the power to see what was happening in the underworld. She was a confidante of outcasts; many of her priests were slaves. She was the Goddess of night and was always followed by ghosts and spirits. She was also called the Goddess of crossroads and even today people leave food on the crossroad in her honor.