Incubus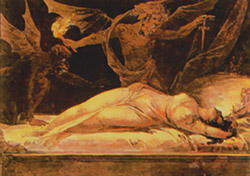 Incubus, coloured aquatint (1870)
An incubus is a mythical male demon that is said to seduce women or rape them while they sleep. The purpose of this act is to impregnate the victim who will give birth to a cambion.
The incubus is not capable of providing live sperm, so sperm is acquired from a human male via a succubus (the female version of an incubus).
Some sources make addition claims, including:
The incubus drains energy from the woman in order to sustain itself.
An incubus can be identified by its unnaturally cold penis

1

.
Repeated intercourse with an incubus may result in poor health or death

2

.
Media & Popular culture
The term incubus is often associated with the band of the same name.
Footnotes
1. Russel, Jeffrey Burton (1972), Witchcraft in The Middle Ages, pp. 239, 235 Cornell University Press, Ithaca and London, ISBN 0-8014-0697-8
2. Stephens, Walter (2002), Demon Lovers, p. 23, The University of Chicago Press, ISBN 0-266-77261-6