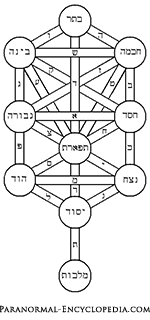 The Kabbalistic Tree of Life
Kabbalah
Kabbalah is a subset of Judaism. Also known as Cabala or Qabbala, it is well-known for its mystical and esoteric teachings.
Kabbalah seeks to find deep, hidden meanings in the Hebrew Bible and traditional Rabbinic literature.
Kabbalah is considered an important part of the study of Torah (the Law of God).
The teachings of Kaballah are not endorsed by all Jews, in fact many consider it heretical.
Kaballah is known as a secretive sect. It is said to have been driven underground long ago because it was feared that in the wrong hands it would create havoc.