Lycanthropy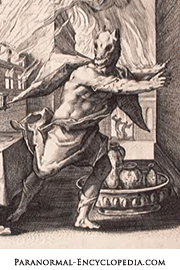 Lycaon changed into a wolf
, engraving by Hendrik Goltzius (1558-1617)
In folklore, lycanthropy relates to the transformation of a human into the form and characteristics of an animal, typically the most dangerous and cruel beast of the region.
The most well-known example of lycanthropy is the werewolf, although there are many variations in different cultures. For example, some African tribes believe in the existence of leopard men.
The historical origins of lycanthropy lie in the Greek mythology tale of Lycaon, a human who was transformed into a wolf as a punishment for eating human flesh.
In the European Middle Ages, lycanthropy gave rise to widespread belief in werewolves. Churches condemned lycanthropy as a form of witchcraft and prescribed severe punishments to the supposed offenders.
The term werewolf is derived from the Old English word wer (man) and wolf. In legends its occurrence has been related to acts of magic and curse. In ancient texts, thinkers like Plato, Piny the Elder and Herodotus, poet Vergil and geographer Strabo have mentioned this condition.
In modern day terminology, it is applied to a form of delusion where a person believes him/herself to be an animal and behaves in the same fashion. Often confused with transmigration, it can be connected with manic depression and schizophrenia. Recent studies have shown that some neurological and cultural influences may also encourage lycanthropy.