Mahatma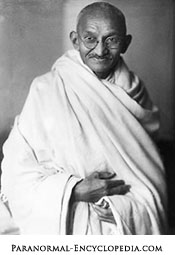 Mahatma Ghandi (1931)
The term Mahatma is used to describe a holy person or saint, typically a great teacher or guru. Mahatma sometimes refers to a liberated soul. Some theosophical adepts were also labeled Mahatma.
The term originates from the sacred language Sanskrit, and was popularized by Rabindranath Tagore in India when he used it for the Father of the nation in the early twentieth century. In the real sense of the word, it was used by Helena. P. Blavatsky to symbolize the theosophical adepts. There was a huge controversy regarding this as people started questioning the very existence of these adepts. Later A. P. Sinnet helped Madame Blavatsky to try and prove that Mahatmas really do exist. He corresponded with them in letters and later published a book about Mahatmas.
The Mahatma is said to have perfect knowledge of not only his field of expertise but also the whole world; they have the power to explain facts and decipher tough questions. They usually have a number of close disciples and an additional number of followers.