Mandala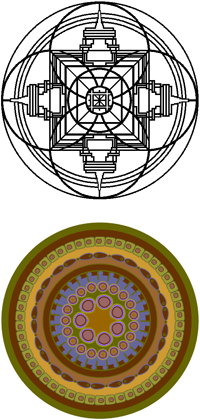 The mandala is a symbol which is used in Hinduism and Buddhism ritual practices. Mandala in Sanskrit means a circle, polygon, connections or community. This is believed to be a symbol which supports a meditating man or woman. It is a tool to focus attention. The symmetry of the Mandala attracts and focuses all attention on the centre of the symbol. It is also believed to help in emotional balance and helps in developing a good personality. Mandalas have always been connected to realization of truth.
The mandala is often drawn as a palace with four gates which face the four corners of the earth. It is believed that the Mandala has four circles which test a man or woman who is meditating. The circles are of purifying fire of wisdom, vajra, eight tombs and lotus. After a person passes all these circles, they can enter the gate of Mandala.
Diagrammatically the Buddhist Mandala has a lotus with eight petals in the centre which rests on the bed of jewels. Next are the palace walls with gates facing the four corners of the earth which are guarded by angry gatekeepers.This is the Mandala of Buddha vajrasatva which symbolizes purity in everything.
Today there are certain other meanings of mandala. At some places it depicts the personal life of a human and the mandala drawn shows the person's involvement in spirituality and level of contentment.
The mandala has moved beyond being just a religious symbol and is also used as designs and decorations.