Ouija Board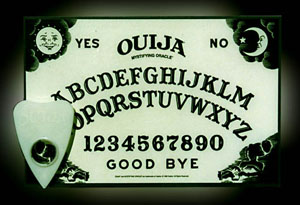 A Ouija Board is a tool used to make contact with spirits. The board itself can be any flat surface upon which the following are inscribed:
The 26 letters of the alphabet.
The numbers 1 to 10.
The words "yes", "no" and "goodbye".
The exact layout of these elements does not matter.
How Ouija Boards Work
Participants sit around the board, typically at a table. A pointer object such as a glass is placed on the board, and participants place their hands lightly on the pointer. When a spirit makes contact, the pointer is moved to the letters and numbers, spelling out messages. In this way participants can ask questions of the spirit and receive answers.
It is traditional to say goodbye to the spirit at the conclusion of the session.