Psi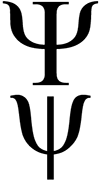 Psi is the twenty third letter of the Greek alphabet and it is used to denote any paranormal action. Psi is further divided into Psi-gamma which denotes paranormal cognition like remote viewing and Psi-kappa which symbolizes paranormal actions like psychokinesis. Psi is also used as a blanket term for parapsychology.
The term Psi was first coined by Benjamin. P. Wiesner.
Psi involves various actions which cannot be explained by science, such as clairvoyance, psychokinesis, remote viewing, telepathy etc. In the scientific world psi is widely considered a pseudo-science in the same way as numerology is considered pseudo-mathematics.
Psi involves phenomena which are related to humans physically, mentally and even after death.
Mental phenomena include extra sensory perception, clairvoyance, possession, telepathy, remote viewing, being a medium, etc.
Physical phenomena include psychokinesis, psychic healing, faith healing, poltergeism, etc.
After death phenomena includes near death experiences, spirits, out of body incidents, etc.
Mental phenomena often occur outside the five senses, physical ones involve the mind which controls some physical object. After death phenomena are said to happen after physical death, where the body dies but the spirit is still alive holding on to the world.
Psi became prominent in the nineteenth century in western countries.