Runes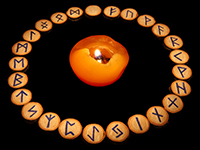 Runes are ancient Germanic alphabets which were put to abundant use in magic, occult, writing, learning and divination. The literal meaning of the word rune is mystery, whisper or any secret. It comes from the Gothic word 'runa'.
Runic divination is said to help a person see and analyze the path that s/he has taken, how far s/he has gone and the consequences s/he may face in the future.
The runes can be read left to right or vice versa in the same script. They were used to write Gothic, German, Swedish, English, Danish, Islandic, Russian, Hebrew and many Semitic languages. People who learnt rune were said to have been the ones who made a number of cryptic riddles and puzzles.
Runes are basically demarcated into two types, the elder Futhark and the younger or Scandinavian Futhark. The elder Futhark is the oldest known version of runes while the younger one was used in the 17th century in the Scandinavian countries.
Translating a runic script is difficult. Runes are a language of advice through which people seek counseling. Runes give clues to the seeker and then it is up to them to find the perfect solution.
The origin of Runes date back to almost the 1st or 2nd Century and they are considered by many to be of divine origin.