Satan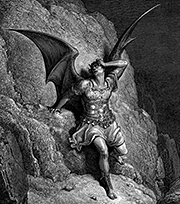 Satan, by Gustave Doré
for John Milton's
Paradise Lost
.
Satan is the personification of evil. The name is often used synonymously with The Devil, and sometimes Lucifer.
In Judeo-Christian belief Satan is said to be a fallen angel. Originally he was one of the highest of angels but through pride and arrogance he refused to obey God's commands. Satan's purpose is to lead people away from God, his first such act being to speak through a serpent and convince Eve to disobey Him.
Many of the popular Christian beliefs about Satan are inferred from the Bible without being explicitly stated in scripture.
In Islamic belief Satan is known as Shaitan (شيطان) and is said to be a jinn who rebelled against God. Unlike an angel (who is always faithful to God), a jinn is said to be a pious human who normally follows God but retains free will—hence Shaitan's ability to disobey God.
Further study:
Internet Resources:
Suggested Reading: