Seance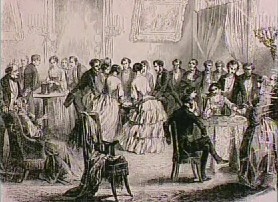 Table-turning seance in Victorian England
Seance is a term used to describe a group of people gathered together and attempting to experience supernatural phenomena, usually contact with spirits of the deceased. Participants often sit in a circle with dim lighting, holding hands.
Seances became popular during the Victorian era (mid 19th to early 20th Century).
Seances are usually lead by a medium, using incantations and/or spiritual objects. The medium may enter a trance state, allowing spirits to communicate through them.
Those who believe in seances tend to regard them as a dangerous activity. Warnings are often given that seances should only be attempted under the guidance of a "trained professional".
The word seance originates from the French séance, meaning seat, or session. The French word séance originates from the old French word seoir, meaning "to sit."