Talisman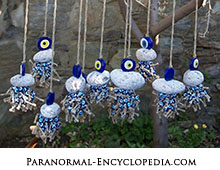 The Turkish
nazar
(evil eye stone) is said to protect against the "evil eye".
Talismans are objects that are said to protect the owner, ward off evil and/or bring good luck. They are usually worn or carried by the owner, or placed in the owner's environment (house, doors, windows etc.).
Talisman is an Arabic word. In modern times it is used synonymously with amulet.
Talismans come in many forms, including paper charms, gems, simple stones, coins, pendants, figurines, drawings, plants, animals, etc. Many Christians use the Cross as a Talisman. The Egyptian Eye of Horus is considered a talisman by many.
A talisman is said to be more powerful if it is received as a gift.