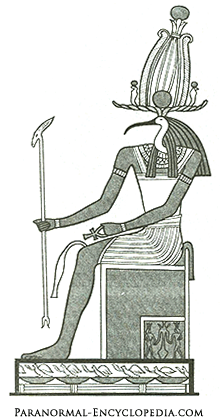 Thoth depicted with a human body and ibis head.
Thoth
Thoth is one of the most important deities in Egyptian mythology. He is considered to be the God who overcame the curse of Ra. He helped Nut give birth to five children. He helped in removing the poison from Horus's body and also helped bring Osiris back from the dead. Thoth was considered the messenger of God and was well known for his good and kind deeds.
Thoth was believed to be the heart and tongue of Ra. He was the one who persuaded the fiery eye of Ra, Tefnut, back to the kingdom. Thoth is said to have possessed the strongest magical powers in the whole world. Thoth was considered to be the Moon God who every day morning greeted Ra, the Sun God.
He was also known as a great writer, a kind guide, and a person with great powers of persuasion.
Much has been said about the physical appearance of Thoth. He is usually thought to have had the head of an ibis on a human body (as pictured right). Sometimes he was depicted as a person with the body of a man and the head of a dog baboon.
Thoth's cult centre is said to be Hermopolis.
The Book of Thoth is a mystical book of spells and knowledge. It is said that anyone who reads it will become a great magician, at the cost of great personal pain.