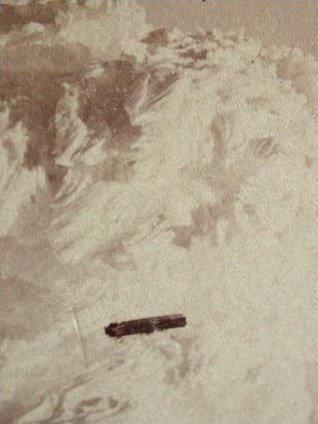 UFO Sighting: New Hampshire (c1870)
Not much is known about this incident except that it is claimed to have provided the earliest photograph of a UFO. The photo shows a cloud formation over the summit of Mt. Washington, New Hampshire. Clearly visible is a flying cigar-shaped object.
The description accompanying this photo reads "SUMMIT Mt. Washington WINTER 1870-1871 Entered according to Act of Congress in the year 1871, by CLOGH & KIMBALL, in the Office of the Librarian of Congress, at Washington."1
The original photograph was purchased by Independent-International Pictures Corp. in 2002 via eBay auction2.
Resources:
1. http://www.ufoevidence.org/photographs/section/oldest/photo134.htm
2. http://www.ufoevidence.org/photographs/section/pre1940/photo134.htm