Voodoo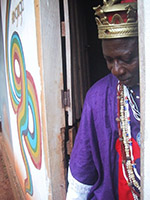 Pope Houngwe Towakon Guedehoungu,
Voodooist Church of Benin.
Photo by Invenalez
Voodoo is one of the ancient religions of the people of South Africa. The word 'Voodoo' means 'spirit of God'. It is derived from the West African word vodun (spirit).
According to Voodoo religion, there exists only one God in the universe. Voodoo followers believe that no event has a life of its own. Every single object in this universe has an effect on other objects, and the actions of humans have a universal impact.
Voodoo followers also believe that spirits of the deceased have a significant influence on the living, and that there is always a connection between the dead and the living.
There are more than fifty million followers of Voodoo worldwide. The custom and practices of Voodoo have been strictly followed in many countries including South Africa, Brazil, Jamaica, Cuba, etc.
The main custom of a Voodoo follower involves calling up on a spirit by using a Voodoo doll. An experienced Voodoo practitioner will at first sanctify the Voodoo doll, and he will transfer the doll to the person who wishes to pray to it and ask for their wishes to be fulfilled. It is assumed that the believer is able to contact the spirits, otherwise called Loa, through the doll, and the spirits then do the work for him/her. After praying to the dolls, devotees perform certain rituals in order to achieve the desired results.
There are different types of Voodoo dolls. Some are made exclusively to meet only one purpose, while certain others are meant for multiple purposes.