Woodwose
Woodwose is a mythical bestial creature resembling the Sasquatch, AKA Bigfoot, of medieval Europe. The term 'Wuduwasa' is the Anglo-Saxon version. The Woodwose is believed by some to be the link between modern humans and their ancient ancestors.
Reports of the Woodwose have come from several continents. Sightings range from the lakes of Scotland, to the mountains of Himalayas, to the Pacific Northwest of America.
The Woodwose is said to have a body covered with thick hair. Unlike the Bigfoot, the Woodwose is not thought to be ape-like, but rather more human-like.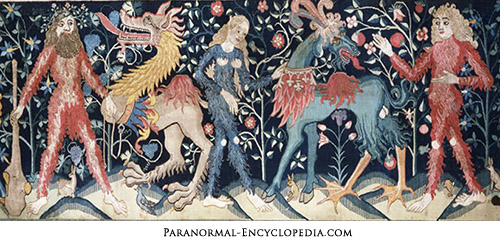 Woodwose tapestry from the 15th century (artist unknown)
The origin of the Woodwose is unclear. Some people believe they are the aboriginals of the forest, possibly the last surviving community of Neanderthals. In some parts of the world people believe that they are original human beings who once moved to forests in search of food, and later became settled there. Others believe that they are a particular genus of human beings with extra hair on their body and wild nature, who had been left to the forest by mainstream human society.
Images of Woodwose appeared in medieval art. Many architectural creations were depicted with the images of Woodwose in medieval European churches.
They also appeared in literature. The Life of Merlin, an epic by the medieval writer Geoffrey, mentioned of the Woodwose.