Yeti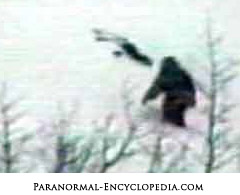 Still image from a video taken by two hikers in Nepal, 1996.
The Yeti, AKA Abominable Snowman, is a legendary creature that is said to inhabit the Himalayan mountains in altitudes up to 20,000 feet. It has also been reported in regions of China and the former Soviet Union. The North American counterpart is the Bigfoot (AKA Sasquatch).

Yeti is also known as metoh-kangmi. This term was wrongly translated as "abominable snowman" long ago.

Yeti is believed to be a huge, hairy, ape-like creature that prowls the Himalayas in the night. Reported many a times by Nepalese Sherpas and Tibetans, it is thought to be more like a modern caveman than an animal.
The first notable recorded evidence regarding this creature came in 1925 when Greek photographer N.A. Tombazi, part of a British geological expedition, saw a creature moving at a high altitude.
Reports then began pouring in, with many people reporting large footprints in the snow. Even the first Mt. Everest conquerors Edmund Hillary and Tenzing Norgay came across such footprints on their expedition.
Some of the most intriguing evidence was the set of photographs taken in 1951 by British mountaineers Eric Shipton and Michael Ward. These apparently showed giant footprints approximately thirteen inches wide and eighteen inches long.
Local villagers consider it bad luck to sight this creature, but the yeti has had some good press too. A yeti was credited with helping an injured mountaineer and a young Sherpa girl in the late 1800s.

Though many such reports have come to light, no solid evidence has yet been produced to support the existence of the yeti.