Cerberus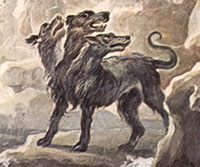 Cerberus from a painting by
Luca Giordano
Cerberus, also known as Kerberos, is a famous demon of Greek mythology. It is believed to be a three headed dog with a snake for its tail. He is said to be the offspring of Echidna and Typhon, and sibling to Chimera and Hydra. Cerberus guards the gates of Hades and ensures that dead spirits enter through the gate but never escape.
Cerberus is very ruthless in not allowing anyone to escape through the gates, but there have been cases when he has been overcome. Hercules once fought and brought Cerberus to the living world (the twelfth labor of Hercules). Orpheus used his music to lull him to sleep and escaped through the gates. The Trojan prince Aeneas and Psyche are said to have pacified Cerberus with a piece of honey cake.
In some versions, Cerberus has fifty heads. All his heads snarled at anybody leaving the underworld.