Chimera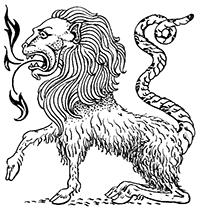 Chimera is a mythological animal which has its roots in Greek mythology. It is said to have been made from the body parts of several different animals: The head of a lion (able to breathe fire like a dragon), the torso of a goat and the tail of a snake (sometimes the tail is said to be a dragon's).
Chimera is believed to be immortal.
Chimera is said to be the offspring of Echidna and Typhon, and sibling to Cerberus and Hydra. Some stories say Chimera mated with its brother Orthrus and gave birth to the Sphinx.
Chimera was slain by Bellerophon, aided by Pegasus. Chimera was shot when it was in the air and then a lump of lead was speared into its head which resulted in a fatal explosion.
Chimera has been depicted in many ancient carvings and sculptures. Chimera drawings were famous in Greek artistry. Chimera symbols were used as signs of Satan. Chimera was also considered as an omen for troubles and disasters including storms, floods and wrecking of ships.
Today, many things are named after Chimera, including a plant, a virus and a protein. The name is also used in paleontology to describe a specific type of fossil.