Edgar Cayce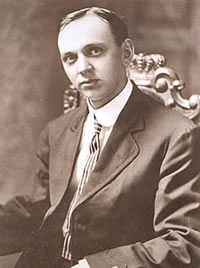 Edgar Cayce (1877-1945, pronounced cay-cee) was an American psychic who claimed to be able to channel information on a range of topics, especially health, reincarnation and astrology. His teachings are still popular, with Edgar Cayce centres in the Untied States and Canada serving thousands of students worldwide.
Cayce was born on March 18, 1877, into a farming family in Hopkinsville, Kentucky. He attended school until the eighth grade before working in various unremarkable vocations.
In 1900 Cayce was struck by severe laryngitis which rendered him unable to speak. The following year a traveling stage hypnotist known as "Hart - The Laugh Man" learned of Cayce's condition and attempted a hypnotic cure. During a session in front of a live audience, Cayce's voice returned under a hypnotic trance but the cure was temporary.
Cayce pursued hypnotic therapy and eventually found an effective regime with the help of local hypnotist Al Layne. Layne convinced Cayce to share the therapy with other people, which led to stories of success and slowly increasing popularity. Eventually Cayce was assisting a large number of people by correspondence as well as in person. He is said to have lived on voluntary donations, offering refunds to unsatisfied customers.
Cayce went on to try various types of reading in other areas such as commercial information, but had no success. He decided that his calling was in the field of health, and chose to devote his life to helping the sick. He also became drawn to the subject of reincarnation.
Cayce was a devout Christian, and was reported to have struggled to reconcile his Christian and psychic beliefs.
By the mid-1920s Cayce was working as a professional psychic with a small staff. In 1929 the Cayce Hospital was opened with the financial assistance of a grateful client.
In 1943 an article in Coronet gave Cayce national attention. He increased his workload but complained of stress.
Edgar Cayce suffered a stroke and died in January 1945.
Prophesies
Edgar Cayce offered a number of prophesies which have not performed well. Supporters claim that certain prophesies have come to pass but critics argue that they are too vague to be useful. Famous "misses" include a prediction that 1933 would be a good year (it was a very bad year), and that scientists would discover a "death ray" from Atlantis in 1958.