Dactyliomancy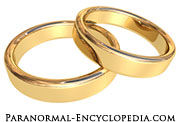 Dactyliomancy (AKA Dactylomancy) is a method of divination using rings. The word dactyliomancy is derived from the Greek word dakterlios (finger ring) and manteia (divination).
Dactyliomancy can be considered a branch of Radiesthesia, a form of divination in which the radiation emitted by a living or nonliving object is measured by radiesthetic objects such as pendulums, rods, or rings.
The practice of Dactyliomancy has reached all parts of the world in various forms. It had its origin in Egypt. The priests and Pharaohs considered it a divine science to detect hidden resources and objects, trace missing persons, eliminate illnesses and evils, and make prognostications.
In dactyliomancy, the ring acts as the pendulum when attached to a thread, and it is used to perform any or all of the above purposes. It can also perform certain functions without attaching to a thread.
In one process, the ring that is attached to a thread is dangled in a vessel containing water and is shaken. The number of times it hits the sides of the vessel will determine the prediction. This process can also be carried out by just dropping the ring in a vessel containing water. The prediction, in this case, is based on the position that the ring occupies at the bottom of the vessel.
Another method uses the ring pendulum over a Ouija board that has certain letters and numbers printed on it. The direction in which the ring moves determines the prediction.
The ring pendulums are widely used in many countries to detect minerals and water under soil.