Helen Duncan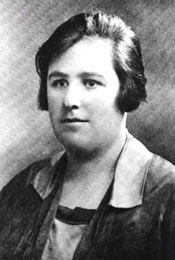 Helen Duncan (1897–1956) was a Scottish medium, best known as the last person to be convicted under the British Witchcraft Act of 1735.
Duncan was born on the 25th November 1897 in Callander, Stirling, Scotland. As an adult she became a medium and conducted seances in which spirits of the dead were said to appear from ectoplasm emitted from her mouth.
In 1931 Duncan was denounced as a fraud by the London Spiritual Alliance. During a 1934 seance, a participant exposed a "spirit materialisation" as a stockinette undervest. Duncan was found guilty of fake mediumship and sentenced to a £10 fine or one month in prison.
During World War II Duncan revealed the supposedly secret fact that the HMS Barham had been lost. According to unconfirmed reports, an irate British Admiralty instigated a campaign to discredit her. Duncan was charged with seven counts: two of conspiracy to contravene the Witchcraft Act, two of obtaining money by false pretences, and three of public mischief. She was found guilty on count one, after which the other charges were dismissed by the judge.
Following her release from jail, Duncan was again arrested for conducting a seance in 1956. She died the same year.
The Witchcraft Act 1735 was repealed by the Fraudulent Mediums Act 1951.