Magicians & Wizards
Definition: Magician* | Wizard–One who practices magic or sorcery.
Synonyms: conjurer*, illusionist*, prestidigitator*, necromancer, sorcerer, thaumaturge, cunning men, wise women, warlocks (m.), witches (f.)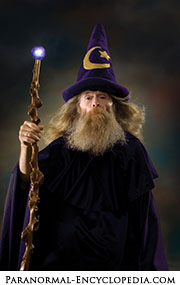 "Cunning-Man, or a Cunning-Woman, as they are termed, is to be found near every town, and though the laws are occasionally put in force against them, still it is a gainful trade."
Robert Southey4
Magicians and wizards have existed in world cultures since the emergence of the world's first tribal peoples1 and in fact, have been traced as far back in time as 2700 BCE2.
Among the first wizards were the shamans, medicine men who performed religious rituals to bring relief from pain and illness. These early magicians maintained the mystery of their remedies by keeping the recipes from the rest of the tribe. The Greeks called their spells "pharmaka", the Romans "veneficia." Both words referred to the magical formulae and the poisons, magical substances and spells created from them3.
From the middle ages almost to the present day, wizards have been employed to practice their magic for any number of reasons. Magicians and wizards, "cunning men" and "wise women" used potions and spells to divine the future, using the current weather, sun, and stars to form their predictions and prescriptions for human predicaments such as betrothal, health, death, and wealth. Throughout history, prominent magicians and wizards have counseled kings and other political figures, predicting events such as famine, pestilence, and even the best time to wage war.
Those who claim to have psychic powers have usurped the charms and spells of many of yesterday's magicians and wizards. Today, the term magician generally refers to one who delights their audience with tricks, illusions and other skilled acts of legerdemain. In fact, today's skilled magicians often, such as Harry Houdini and James Randi, are often among the first to expose psychic fraud1.
The word "wizard," when used in a paranormal sense, is left to the sorcerers of legend such as Merlin, the wizard of the Round Table.
See also: Famous magicians & wizards
Resources:
1. "magician." Encyclopedia of Occultism and Parapsychology. The Gale Group, Inc, 2001.Answers.com 20 Apr. 2009. <http://www.answers.com/topic/magician>
2. DAVID ACER, BRUCE POSGATE. "Magic." Canadian Encyclopedia. 2002. HighBeam Research. 31 Mar. 2009 <http://www.highbeam.com>.
3. Matthew W. Dickie, Magic and Magicians in the Greco-Roman World (London: Routledge, 2001) 16, Questia, 20 Apr. 2009 <http://www.questia.com/PM.qst?a=o&d=107442371>.
4. JACQUELINE SIMPSON and STEVE ROUD. "cunning men, women." A Dictionary of English Folklore. 2000. HighBeam Research. 20 Apr. 2009 <http://www.highbeam.com>.