James Randi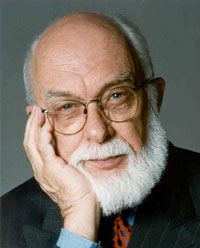 James Randi is a researcher and debunker of fraudulent claims involving the paranormal. An outspoken critic, Randi has attracted a fair amount of controversy. He is reviled by many in the psychic community and hailed by many in the scientific community.
James Randi is perhaps best-known as the driving force behind the James Randi Educational Foundation, and in particular, the $1 Million Challenge which offers a million dollars to anyone who provides proof of paranormal abilities. To date the prize has remained unclaimed.
Randi was responsible for a spectacular hoax in 1979-1983 called Project Alpha, in which two young magicians fooled a university research laboratory into believing the pair had supernatural powers.
James Randi's books include The Truth About Uri Geller, The Faith Healers, Flim-Flam!, and An Encyclopedia of Claims, Frauds, and Hoaxes of the Occult and Supernatural.
Before becoming a researcher, Randi pursued a career as a magician with the stage name "The Amazing Randi". His experience with illusion has assisted his investigations into false claims such as Uri Geller's spoon-bending (now known to be a sleight-of-hand trick).
For more information visit www.randi.org