The JREF One Million Dollar Paranormal Challenge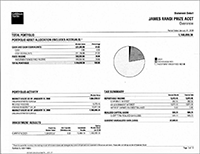 James Randi Prize Account, statement dated January 2008.
View PDF
.
In 1964, skeptic James Randi was participating in a live radio panel discussion with a parapsychologist when he was challenged to "put [his] money where [his] mouth is". Randi accepted the challenge and offering to pay $1,000 for a challenge of his own—the prize would go to the first person to demonstrate paranormal ability in a controlled test1.
As awareness of the challenge grew, sponsors came to the fore and the prize value increased. The JREF Million-Dollar Challenge was launched in March 1998.
Over the years applicants have offered to demonstrate a variety of paranormal abilities and devices, from the intriguing shimmering leaf™ plant activity detector to the bizarre power of paranormal urination. No applicant has yet passed the preliminary test phase.
Decision to End the Challenge (Reversed)
In January 2008, James Randi announced that the challenge would be expiring on March 6th, 2010, giving applicants two further years to apply2. However this decision was reversed in July 20094 and the challenge is now set to continue.
According to James Randi in 2008, the challenge had run its course. Initially aimed at high-profile players in the paranormal professions (e.g. celebrity psychics), these people had all either played their hands or declined to participate. The challenge had been reduced to a stream of applicants who often appeared mentally unhealthy, unable to even put together a coherent application. The JREF foundation felt that their time and the money were not being well utilized.
"Our expectations at first were that we'd attract major personalities by this means, but they've avoided having to take the test by simply not applying; those who have actually applied are generally honestly self-deluded persons".2
In order to illustrate the situation Randi offered the following extract from a typical application:
"I understand that Archangel Michael visited you and delivered the Pigasus gold statue I took from your safe. I hope you follow up on our pre-incarnational agreement to confirm the reality of "Paranormal" events in our physical reality before you pass on permanently. I did my part of the agreement by giving you the gold pigasus an hiding some birds in a sealed box that really upset you when you discovered them. Also hiding a box turtle in your desk, etc."3
JREF has yet to announce what will changes will be made to the challenge in future.

Resources:
1. http://www.randi.org/joom/million-dollar-challenge-faq.html
2. http://www.randi.org/joom/swift/swift-january-4-2008.html#i4
3. http://www.randi.org/joom/swift/swift-april-4-2008.html#i4
4. http://www.randi.org/site/index.php/jref-news/640-million-dollar-challenge-update-its-not-ending.html