Eusapia Palladino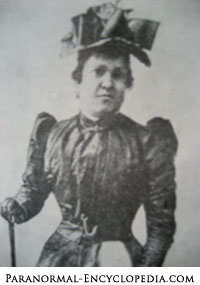 Eusapia Palladino, 1893
Eusapia Palladino (1854-1918, sometimes spelt Palladino) was an Italian spiritualist who travelled and performed throughout Europe. Her skills were said to include levitation, elongation, spirit materialization and channeling.
In 1908 Eusapia Palladino was famously tested by a committee appointed by the American Society for Psychical Research. The three-person committee was so impressed by her powers that they declared her to be genuine. Lesser-known was a subsequent test in 1910 that included William Marriott, a conjurer who had previously exposed fraudulent psychics. Being familiar with their tricks, he exposed Palladino as a fraud.
Tricks used by Eusapia Palladino include:
Controlling lighting conditions and keeping the room dark.
"Controllers" kept a foot in contact with her shoe under the table, but she discreetly removed her foot from the shoe to move and levitate the table. She used specially-constructed shoes to make this easier.
Sometimes her legs were strapped to her chair, but she insisted in leaving some play so she could wriggle free.
She insisted on certain seating arrangements which made it easier to covertly move the table and keep observers from seeing how.
Using strands of hair to move objects at a distance.
Wrapping her hand in a handkerchief to produce spirit materializations.
Throughout her life Palladino's powers apparently became weaker. Supporters claimed this was due to advancing age. Skeptics argued that observers became more aware of common tricks, and stricter controls made these more difficult.
| | | |
| --- | --- | --- |
| This photo, taken in 1898 at the home of French astronomer Camille Flammarion, shows a table apparently levitating during a séance. | | This 1903 photo of a séance in Munich, Germany, shows a mandolin (the striped object) apparently levitating. |