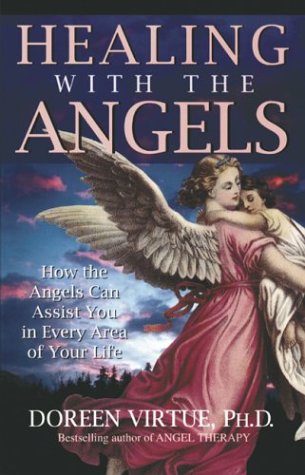 Doreen Virtue
Doreen Virtue (1958-) is an American author and workshop facilitator specialising in paranormal therapies and self-help.
Virtue claims to have a background in traditional psychology and psychiatry, including:
A Ph.D. in counseling psychology at California Coast University.
Director of WomanKind Psychiatric Hospital at Cumberland Hall Hospital in Nashville, Tennessee.
Administrator at Woodside Women's Hospital in the San Francisco Bay Area.
(Note that the California Coast University was an unaccredited institution and the two hospitals mentioned have since closed. )
Virtue's first published material dealt with self-help and eating disorders.
Virtue reports that she was the victim of a carjacking attempt in1995, during which a mysterious voice gave her instructions and helped her foil the attackers. After this incident she left her traditional career and moved into the field of metaphysical psychology.
Since then Virtue's work has involved the topics of angels, fairies, chakras, Ascended Masters, Indigo Children and reincarnation. She has been particularly supportive of the Indigo Children movement, and coined the terms Crystal Children and Rainbow Children to describe generations of people born with psychic gifts after the Indigo generation. her ideas of reincarnation include the belief that humans can experience lives as non-humans (e.g. fairies, angels and extra-terrestrials).
Virtue's work currently focusses on the "angelic realm", i.e. interacting with angels.
Virtue has produced a number of oracle card sets (similar to tarot cards) with themes such angels, fairies, goddesses, dolphins and unicorns.
Websites: